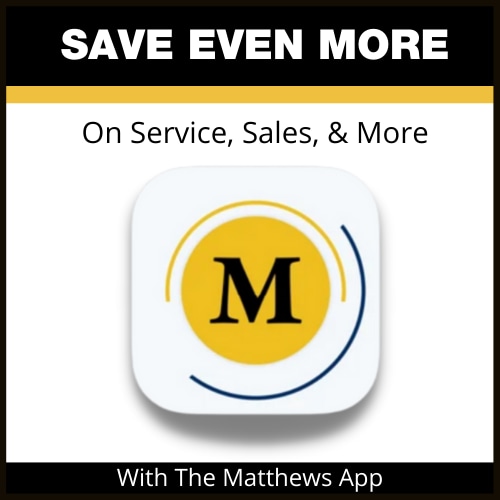 Matthews App Commonly Asked Questions:
How Do I Redeem the Raffle Tickets I Claim? You don't have to do anything…they are automatically entered into the drawing for the current month, which will be randomly drawn by a computer program within the first few days of the next month! Also, if a member accidently "activates" a raffle ticket and the ticket subsequently disappears from the app, their entries still count and remain unaffected in the system.  Winners will be notified directly about how and when to claim their prizes.
Can I Share my Rewards Plus Service Benefits with My Family Members? No.  Rewards Plus Service benefits are VIN/vehicle specific and are non-transferrable.
·      Can I Gift my Rewards Plus Future Vehicle Savings to My Family Members? Absolutely!  Just tell your Sales Associate that you have Rewards Plus Future Vehicle Savings that you would like to gift to someone (anyone you like), and they will research and apply the available discounts.
Can I Use More than one Future Vehicle Savings Voucher at a Time?No.  Matthews Rewards Plus Future Vehicle Savings Vouchers may not be combined towards a single vehicle purchase or with any other offers.
Where Can I See my Automotive Rewards in the Matthews App? Open up the App, tap on "Matthews Rewards Plus", then "Automotive Rewards".  Choose your vehicle, and you will see your available vehicle specific rewards.  You do not have to redeem anything from your phone, just tell your Service Advisor that you have Rewards Plus and they will take care of redeeming it for you!
Where Can I See the Prizes I have won? Open the Matthews App, tap on "Matthews Rewards Plus", then "Around Town Rewards".  Your prizes will show up in a series of tiles that you must "Activate" to get your deal or prize…in front of the receptionist at your designated prize pick-up store.
I Won a Prize on the Spin Game…How Do I Claim It? You will receive email instructions to go to your regions designated prize pick-up Store. When you arrive to pick up your prize, you must bring up the prize tile (from your Around Town Wallet) and activate that prize in front of the receptionist.  For Raffle prizes, the receptionist will be notified by email of the winner, but there will be no tile to activate.                                
I Forgot My Password…How Do I Reset It? Go to the Matthews App and tap "Login".  Tap on "Forgot Password".  Enter your cell phone number, including the Area Code, then tap "Submit".  You will receive a text message with a 4-digit code that you must enter in the "Temporary Password" field, which will then prompt you to change your password, and allow you access to the Matthews App. 
I Never Got My Temporary Password…How Do I Get Into My Matthews App Account? To download the new app and get started…please go to your App Store, simply download and enter your information. Once your information is received you will get a 4 digit code sent to you and prompted for a new password. 
Link: https://autorewardsplus.com/products/appstore                           
To view your Automotive Rewards, go into the App, tap MATTHEWS REWARDS PLUS, the Automotive Rewards.  Select the vehicle you would like to view rewards for, and you will see a tally of your remaining automotive rewards.  This is a tally only…your Service Advisor will take care of redeeming these for you when you come in for Service and tell them you have Rewards Plus!